Submit Application for Building & Electrical Permits
After initial approval from the utility co., we work with the local authorities having jurisdiction (AHJ) to apply for the required building and electrical permits. AHJ's in your local community are typically at the township or county level and vary based on your location. Being a local company based in Pennsylvania, we live and work in these same communities enabling us to efficiently handle all the required paperwork. We will also work with other local officials or other entities such as a home-owners association (HOA) if applicable.
Example of the requirements to apply for building and electrical permits: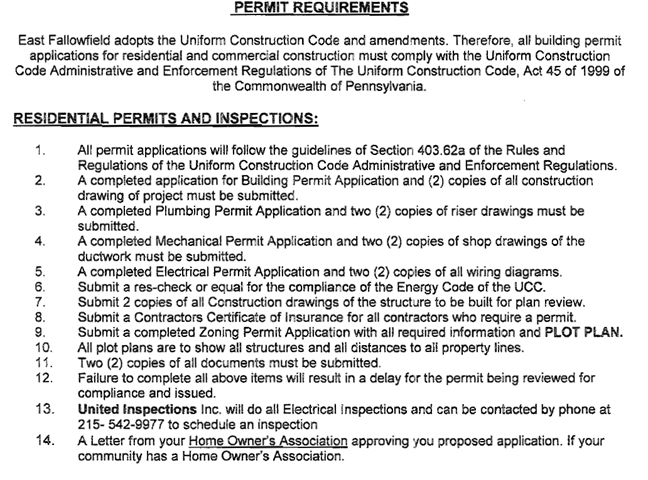 Receive Approval and Obtain Required Building & Electrical Permits
When our applications are approved by the local permitting authorities and all other necessary permissions secured, we will verify that all materials have been received and schedule the work.
Pre-Installation Meeting
A member of the Green Way operations team will meet with you at your home or place of business to discuss the timing and scheduling of work. They will review the specific placement of system components including the solar modules, inverter and electrical conduits per the final approved design. Approved system plan copies are retained by the customer at the worksite and building permits are properly displayed per local regulations.
Safety
The safety of our employees, customers and their families take first priority at Green Way Solar. The operations manager or crew leader will discuss safety concerns and the written fall protection plan with the customer prior to the commencement of work. We have a certified Fall Protection specialist on staff credentialed as an OSHA Competent Person who will develop a written fall protection plan for each project. All Green Way personnel are trained to work with fall protection equipment and are competent in its use. It is sometimes necessary for us to park our vehicle in your front or rear lawn to serve as an anchor point for our fall protection equipment. Please contact us if you have questions regarding our fall protection policy.