Initial System Design & Verification
Engineering, design and the filing of required forms and permit applications are needed to clear the way for your solar PV system's installation to begin. Relax and let the Green Way team handle all the details!
We've partnered with the most-respected solar design software company in the world, Helioscope. This partnership ensures that our customer's systems are designed to the highest standards and the most accurate production modeling available in the industry. Our accredited energy specialists utilize these state-of-the-art software tools to design your system and then model its solar production, considering factors such as shading and module placement to optimize your system's maximum return on investment. During the initial design and verification process, we will work with you to finalize your selection of solar modules and associated optional equipment to complete the project.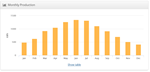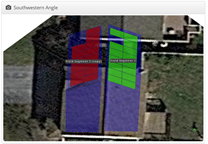 Racking Design, Engineering & Layout   
The racking system of a solar PV system is the backbone of the project. The racking system serves the important role of attaching the solar modules and associated electrical wiring to the roof's surface in a safe, effective and leak-free manner in accordance with local building codes and the National Electrical Code. (NEC)
A racking system design is created considering the following parameters which will vary based on project location:
EXAMPLE DESIGN ASSUMPTIONS:
ROOF-MOUNT INSTALLATION
EXPOSURE CATEGORY = B  BUILDING STANDARD = IBC 2015 SNOW LOAD = 40 PSF
WIND SPEED = 110 MPH ARRAY PITCH = 26.6 degrees AZIMUTH = 90 degrees HEIGHT = 29 feet
An accredited member of our technical team creates a racking design, and engineering data reviewed to insure the planned racking system installation conforms to local building codes. The added weight of the racking system and modules, along with wind and snow loading are considered in the design of your system, so you can be rest assured your system is professionally engineered. A system site plan, required electrical drawings and bill of material is then created for your project.